Booklet Printing + Binding Services – 
Saddle Stitching
---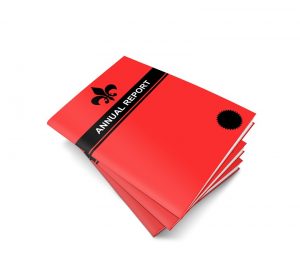 EASY PICK-UP, DELIVERY AND RUSH SERVICES ➵
For booklet printing, we fold and gather sheets of paper — one inside the other,  then mechanically staple them together – through the fold lines with quality metal staples.  
In addition, our staples pass through the crease lines through the outside and are clinched between the pages. Typically, we use several staples, but big booklets may require staples all along the crease line.
Retail Booklets & Catalogs
Medical Info Booklets
Art & Photography Portfolios
Business Training Manual Printing
The Saddle Stitch Process.
For example, in our typical bindery services, we use Saddle Stitched booklet with a final page size of 8.5in x 11in. Internal pages and front cover of the booklet are made from 11in x 17in sheets, then folded in 1/2 to 8.5in x 11in.  Then, the creased sheets of paper are nested inside each other and stitched together through the folded spine of the booklet.  Every 11in x 17in piece of paper half-folded makes 4 booklet pages.  In essence, when Saddle Stitching, count by 4 pages at a time.  As always, Advance Repro can help can help you with your design & layout needs.
Most of all, we offer Saddle Stitching on booklet printing, event programs, calendar printing, newsletter printing, pamphlet printing, direct mail printing, comic book printing, thin magazine printing, catalog printing, and more!

Requirements:
64 Pages or Less
Provide Safe Margins Around Every Page
Be Prepared for Variable Trim & Cuts