Paper Shredding & Document Destruction Service ➵
---
Paper Shredding Service | Document Destruction Service | Scanning Service
Outdated files take up valuable space, increase your risk of a breach in confidentiality, and therefore also potentially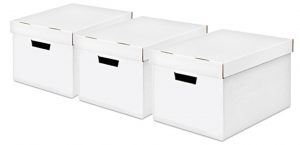 compromise your compliance with the law. You handle a lot of sensitive business as well as personal information. As a result, in the wrong hands, it can put you, your employees and also your customers at risk. We know that confidential information is stored well beyond the work place of our customers. Consequently, we aim to provide one of the most secure shredding methods available.
Advance Reprographics offers secure, cost effective drop-off paper shredding service for San Diego companies and residents. Conveniently located in San Diego, we specialize in the destruction of confidential material. We are proud to offer paper and document shredding services to small-businesses as well as residential clients who can come to our locations to shred on our site.
What Type Of Documents Should You Shred?
Advance Reprographics Shredding Services meets the specific needs of your business and residential uses. Some documents may be confidential, and would require shredding, such as:
Bank Account Statements
Correspondence
Job Applications
Profit/Loss Statements
Brokerage Reports
Credit Card Statements
Legal Documents
Signatures
Cancelled Checks
Financial Reports
Medical Records
Social Security Numbers
Confidential Letters
Insurance Policies
Pay-stubs
Tax Records
Contracts
Invoices and Receipts
Photographs
Telephone Numbers
We Can Scan Your Documents and Then Shred Them Too!
You can also have your documents professionally scanned before shredding. Advance Reprographics specializes in high-quality scanning services while utilizing the latest in digital scanning technology. Scanning documents before shredding is a great way to save space and still retain important document information. Find out more about our professional scanning services.
How to Prepare Your Documents for Drop-Off
1. You must ensure that your documents have been thoroughly examined to remove any combustible materials, metal objects, office equipment, computer cables, old cell phones, batteries, food, as well as other garbage that may be harmful to our shredder.
2. You must also remove documents from 3-ring binders and any plastic casings such as documents in plastic folders or plastic bags.
3. You don't need to remove common metal objects such as staples, paper clips, binder clips, hanging folders (with metal strips), manila folders, paper board legal binders, spiral notebook binders, or books. We can handle these!
Get started today! Call us at (619) 297-7734.