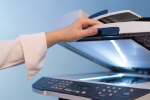 ⚡ Lightning Fast Scanning Services… Get a Quote ➵
Fast, Document Scanning, Photo Scanning, Document Digitization & Large-Format Scanning
---
Do you have lots of documents such as forms, applications, receipts, photos, engineering documents or architectural plans unnecessarily taking up space? With Advance Reprographics scanning services you can digitize those documents making them easier to manage while preserving their integrity. Our high-quality scanners utilize OCR (optical character recognition) software, making your documents searchable as digital files. Once scanned the digital files take up virtually no physical space and will never degrade over time. In fact, old documents that have already begun to degrade can be digitally enhanced to ensure that they will maintain high-quality resolution forever. Regain your storage space by going paperless with Advance Reprographics scanning services.
High-Quality / Low-Cost Scanning
As a wholesale priced scanning service that utilizes the latest in digital scanning technology, Advance Reprographics can give you the highest DPI currently available with every scan at pricing that other companies simply cannot afford to offer. Discover what legal firms, medical offices, universities, employment agencies, corporations and families across the country have already found out. Advance Reprographics can significantly improve your organization. We can help you get rid of clutter by scanning your physical documents, turning them into digital files that will never get lost or degrade.
What Can We Scan For You?
Our service is set up to offer the highest quality and lowest cost 2-dimensional scanning available.
OCR Archiving and Organization Of Scanned Documents
OCR stands for optical character recognition. It is a technology that will recognize words in an image and make them searchable, just like content on a web page or word document. By scanning your documents with OCR software you can turn boxes and boxes of paper files into a digital file that can be easily stored, organized and shared. Join the 21st century and go paperless with Advance Reprographics document scanning services today!
Our Step-by-Step Scanning Process
Call to get a quote and have one of our pros assigned to your project.
Give us what you want to be scanned.
We will scan your documents.
Digital files will be organized per your direction.
Digital files will be transferred to you via DVD, flash drive, Box.net, Google Drive, or Email.
Our Scanning Experts Will Get You Started
Whether you are looking for brochure printing, unique custom printing, brochures, business cards, or postcards for your business, we want to help you shine and empower you to do what you do best. At Advance Reprographics, we are a passionate and knowledgeable group of design and printing experts. We strive to exceed expectations with our technical expertise to produce the highest quality printed pieces. We also deliver it faster than expected at wholesale prices. If you are ready to place your order or you have more questions, the best thing you can do right now is call (619) 297-7734.