What is CAD Conversion?
The AutoCAD (Computer Aided Design) or CADD (Computer Aided Design and Drafting) conversion process is used to convert existing legacy drawings (hard copies/ blueprints) into electronic formats. There are several types of such drawings:
Civil Drawings
Mechanical Drawings
Electrical Drawings
Architectural Drawings
P&ID Drawings
Contour Maps
Site Plans
AutoCAD conversion services convert hard copies into a digital format which makes archiving, retrieving, copying, editing and sharing the documents easy and quick.
Disadvantages of Legacy Blueprint
Paper drawings are subjected to wear and tear and fade away with time
Involve large space, storage and maintenance costs
Difficult to access, retrieve, or share
Cannot be edited/changed
Advantages of CAD Conversion
Digitized files can be centrally stored & indexed for easy retrieval across the organization without any storage cost
CAD files are accurate in dimension and have separate layers for different elements
Converted files can be password protected and have authorized access
Easy to edit/modify for renovation change
CAD documents are safe from fire, water, termites and other types of damage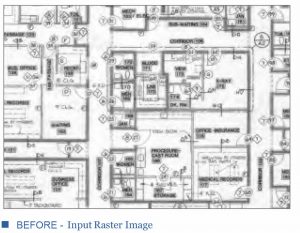 ⬇ ⬇ ⬇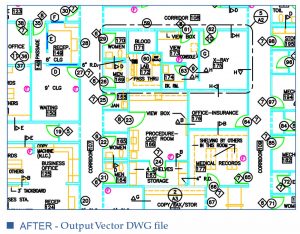 Convert Your Project Today
---
Services Offered
Vectorization & Cad Conversion
We specialize in the conversion of legacy paper drawings into accurate CAD drawings as per client's CAD Standards or as per the prevalent International standards. We are well equipped to efficiently handle almost all CAD platforms like AutoCAD Rel 14, 2000i, 2004, 2009, 2013-17, MicroStation 8, Raster Design 2010, ArcGIS, etc.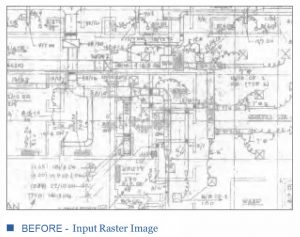 ⬇ ⬇ ⬇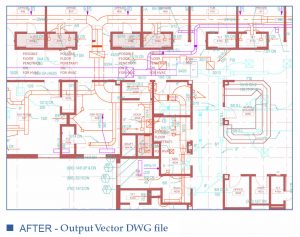 Conversion Process:
We don't use any Auto-vectorization software for conversion. We employ heads-up manual redraw process to guarantee accurate conversion. The converted files have the following features:
100% accurate dimensions
Multi-layered
Blocks and templates to ensure consistency and aesthetics
Text font, colors and line type as per client standards
Any other specific standards as per client requirement
All redlines and comments if any, are picked up during conversion
We have an ISO certified 3 layered quality control process to ensure consistent high-quality conversion.
Input format: TIF, PDF, CAL, JPEG
Output format: AutoCAD (dwg, dxf), Microstation (dgn), Others
File Format Conversion
DWG to DGN Conversion
We convert DWG files to DGN files and vice-versa.
DWG, DGN to PLT & PDF Conversion
We convert DWG & DGN files to PLT and/or PDF files.
Vectorize Your Project Today
---
Indexing & Renaming Scans
We specialize in indexing/renaming of all types of scanned documents/drawings for efficient storage and retrieval.
We have also developed tailor-made processes and software for accurate indexing.
We offer blind double key verification, which has 99.99% accuracy.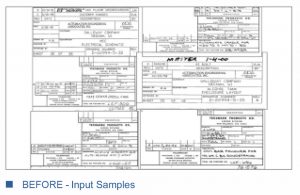 ⬇ ⬇ ⬇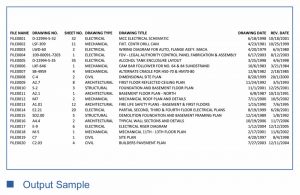 Click Here for Indexing Services
---
Document Conversion & Data Capture
We convert paper documents / scanned documents to any digital format like DOC, XLS, DBF, XML etc.
We convert them to PDF normal and PDF formatted variants with searchable text and graphics.
We employ specially trained professionals to capture data from images, forms, full-text sheets, cards, books, sales orders, address books, surveys, etc.
We involve double entry, OCR, look-up tables, blind double entry, verification and in-house software routines helps us to attain 100% accuracy.
We handle all data formats like pdf, doc, xls, mdb, htm, xml, txt, and ASCII.
Click Here to Start Converting Your Files
---
Hyperlinking Services
Hyperlinking facilitates project coordination by integrating documents into hyperlinked drawings and maintains RFIs, ASIs, Submittals & Coordination Drawings throughout the construction process.We link all related drawings, reference views, and other details and help the project team members to access information from one master set. We help to avoid time-consuming searches and focus on critical tasks, saving project time through hyperlinking.
Click to Start Hyperlinking
---
BIM Services
We offer end-to-end BIM services, allowing clients to use BIM effectively for construction projects. Our core
BIM expertise lies in:
3D Modeling & Visualization
Clash Coordination
Shop Drawings
Marketing BIM Presentation
Facilities Management
Site Logistics
Bill of Materials (BOQ)
Digital Prefabrication/Spool Drawings
3D Model Conversion from Laser-Scan/Point Cloud Data
Revit Family Content Generation
We have successfully executed 4500+ BIM projects for our clients in USA, Asia, Europe and Australia.
We Support all file formats Revit(RVT), Bently (DGN), Navisworks (NMC, NWD)
Get Your Project Started
---

Get Started Now ➵
We offer quick & efficient printing quotes for a hassle-free & convenient ordering process.
Drop us a line, and we'll give you an idea how much a printing job would cost.
Submit your specs now, and our staff will help you with everything you need to fulfill your price and order.